We have been restricted to so many things but what we have taken from this time is that we need to focus on those little things in life that make us happy!
Having time for our family's, taking a break from the rat race of life, and we wanted to create that special me time and offer you our post lockdown specials!
Come and switch off, be pampered, and step out of our salon with a spring in your step and remember that hour of bliss!
We have two very special facials for you. At Younger Beauty, we use two product ranges. Tropic and PHformula. Both are very different, but this enables us to offer a facial suitable for everyone.
Our clinical facial using PHFormula.
What is PHFormula?
It is a dermatological skin resurfacing system. A system positioned between cosmeceuticals and the physicians' practice.
All of the active ingredients are pharmaceutical grade. They offer an opportunity for us to recommend and apply one of the most advanced and effective skin resurfacing treatment systems available in today's aesthetic market. Due to the medical element and strength of active ingredients, you can not buy this product without first having a skin consultation with at least a Level 4 Skincare Expert.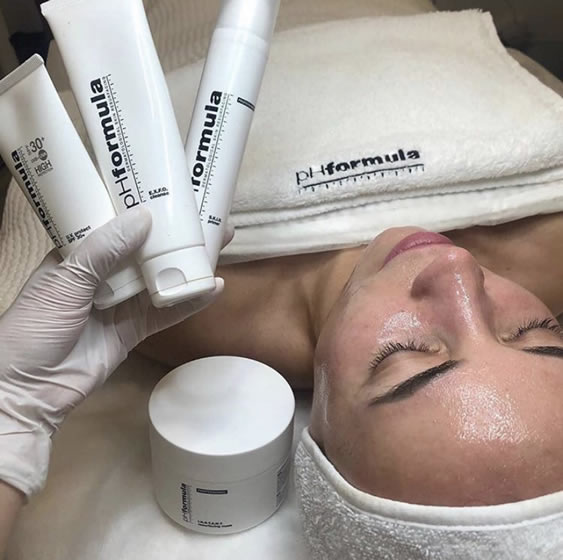 This facial is an introduction to PHFormula and is suitable for all skin types. It combines the Geneo+ microdermabrasion, oxygen therapy, gentle resurfacing mask, hydrating actives, and the smoothest, softest skin you will have ever experienced.
Be prepared for your senses to be indulged.
What to expect from my facial:
Steam cleanse – Steaming your face is a relaxing way to treat yourself at the end of a long day. It helps to increase circulation in your face and opens your pores so you can cleanse away impurities
GeneO+ – This part of the treatment begins with a microdermabrasion treatment. The combination of the NeoRevive or NeoBright gel and the Capsugen gently buffs the skin creating oxygen bubbles which are infused into the skin tissue and oxygenates the blood stimulating cell renewal.
I.N.S.T.A.N.T Resurfacing Mask – PHformula. This mask leaves the skin noticeably radiant and glowing. It provides gentle resurfacing and helps to leave the skin smoother, brighter, and softer. While providing tighter skin texture and tighter pores, a more youthful appearance and absorbs impurities without removing natural oils. The anti-oxidant effects of ferulic acid instantly revitalize the skin, lighten and brighten discoloured skin and aids the skin's ability to heal, repair, and protect itself from free radical assault.
Hydra Serum – an application of PHformulas hydrating serum. This serum contains a specialised blend of active ingredients and moisture-binding ingredients that intensively hydrate skin's deepest surface layers.
Moisturise with Post Recovery Cream – This rich emollient cream contains a blend of humectants for maximum hydration. It helps alleviate immediate skin dryness and provides excellent anti-inflammatory and anti-oxidant properties.
SPF – all facials must end in the application of SPF to protect your newly glowing, resurfaced skin
This facial is usually £75, and we are doing an incredible offer for JUST £45.
And remember:
"Feel well, look well, and help our industry stay well!"