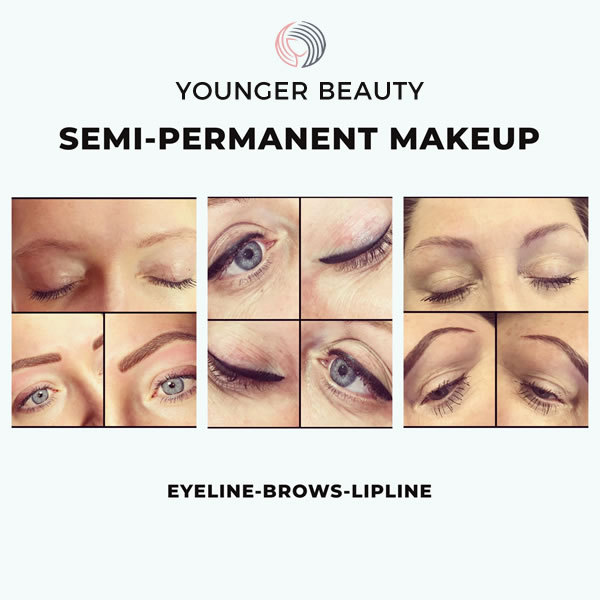 Also known as micro-pigmentation, it involves colour that is tattooed into the skin, creating make up that does not wash off, looks good, stays put and is long-lasting. As the colour is placed into the skin directly into the dermal layer a softer more natural look is achieved.
Beautiful Brows
Shape your face and give the appearance of lift to the face. At Younger Beauty, we use the latest technology and equipment in order to create various different styles of eyebrow in order to achieve a natural and individual look whether that is a hair stroke or a powdered appearance.
Enhance your eyes
With upper and/or lower eyeliner tattoo. The eyes are the first thing that people look at when they see you. Due to the expertise of our technicians the treatments are individual to each clients needs in order to create the desired look. The eyeliner is very popular due to the illusion of thicker lashes making the eyes look more open and vibrant.
Permanent Lip Procedures
Create symmetry, fullness and definition to any mouth. Over time and as we age the pigment in our lips recedes. The use of the lip treatment helps restore colour but also create definition, and give a fuller but natural look to your lips. With this treatment, less is more, but when done correctly the results speak for themselves.
Scalp Micropigmentation
One of the most exciting procedures on the market at the moment is that of scalp micropigmentation and are delighted to be able to offer this treatment to the local community and surrounding areas. A lot of men and women are affected by balding which can affect confidence and self-esteem. This procedure is an advanced cosmetic procedure using natural organic pigments applied to the scalp via very fine needles creating the appearance of real hair follicles at the surface of the skin. At Younger Beauty, we have one of the lead technicians in the industry doing this procedure and it is suitable for different severities and stages of hair loss from complete hair loss to thinning or restoration of the hairline.
What to Expect
The treatment of balding and thinning is a unique experience. Therefore, a full consultation with our technician discussing skin tone, hair colour, style and expectations will help you develop a treatment plan for your individual requirements. The price of the treatment varies depending on the amount of coverage, but prices start from £200 making it a very affordable option for hair loss that gives a lasting result.
How long will treatment last?
Depending on your treatment plan the sessions can take between 2-3 hours over 3 to 4 sessions. The gradual treatment creates a natural look of building hair density. A full procedure of hair loss can take from 4-6 weeks giving you the optimal hair loss restoration giving you back your confidence and building your self-esteem.
We are so confident with the results that we offer a two-year guarantee so that if you find any fading within two years, we provide a free of charge colour refresh.
See the images below and you will discover that the spectacular results truly speak for themselves
Medical procedures
Semi-permanent make up is also used for medical procedures. At Younger Beauty, we have one of the industry leaders in medical tattooing. She has worked closely with various cancer centres training staff in areolar (nipple) tattooing and is privileged to be able to offer this service to the ongoing care of these clients. We also provide procedures to reduce the effects of scarring with fantastic results to be seen.