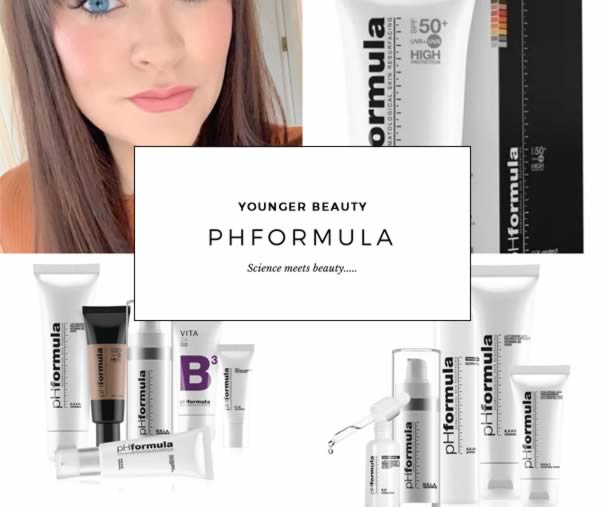 At Younger Beauty, we love pHformula.

Let's talk pHformula!

A completely different skincare range. pHformula is leading the beauty industry where science meets beauty.
Based in Barcelona, Spain, Petru is the founder and CEO of pHformula – the first professional skin resurfacing system applied by skin specialists worldwide.
Originally from South Africa, Petru van Zyl has worked extensively in Europe, Australia, the United Kingdom, Scandinavia, the UAE, Russia, South America, South Korea, and the USA. During this time, she actively researched skin biology as well as the latest cosmetic chemistry information available, leaving her with a passionate interest in developing a dermatological skin resurfacing system. The pHformula skin resurfacing system has a unique mechanism of action. It is different from conventional chemical peelings and was formulated to provide a controlled and targeted delivery of active ingredients while preserving the integrity of your skin's epidermis. Skin resurfacing stimulates the production of collagen and new skin cells, with minimal destruction of the epidermis.
She collaborates closely with several internationally renowned master opinion leaders; most of whom are well-known scientists, dermatologists, plastic and aesthetic surgeons.
pHformula's products are not tested on animals, nor do the ingredient suppliers test on animals. PHformula's focus remains on creating optimal skin health and therefore, also doesn't use parabens and are not used in our products.
pHformula, is a dermatological skin resurfacing system. A system positioned between cosmeceuticals and the physicians practice, and which is in the process of being successfully introduced into more than 35 countries worldwide.
All the treatments and formulae used in pHformula are supported by more than 30 years of combined scientific and medical experience. All the active ingredients are pharmaceutical grade and offer an opportunity for physicians to recommend and apply one of the most advanced and effective skin resurfacing treatment systems available in today's aesthetic market. Due to the medical element and strength of active ingredients, you can not buy this product without having a skin consultation with at least a Level 4 skin qualified technician.
Why do we love this brand? When it comes to results, it certainly delivers.
They target for main areas of concern: Ageing, pigmentation, acne and Chronic Redness (Rosacea). For many, these skin conditions can significantly affect a persons confidence and wellbeing. After lots of research and trials with different brands, we settled with this, and we love it.
Below is one of our results from the pigmentation resurfacing. This was after three skin treatments and home care…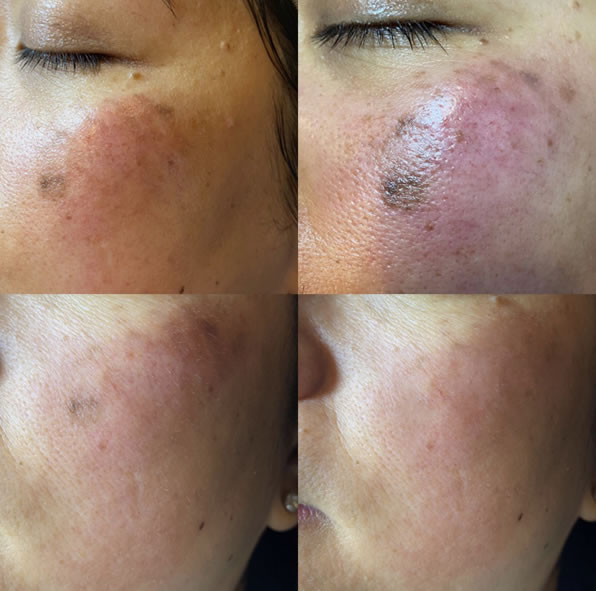 The results speak for themselves. We love the acne resurfacing and home care also loved by Frankie Bridge.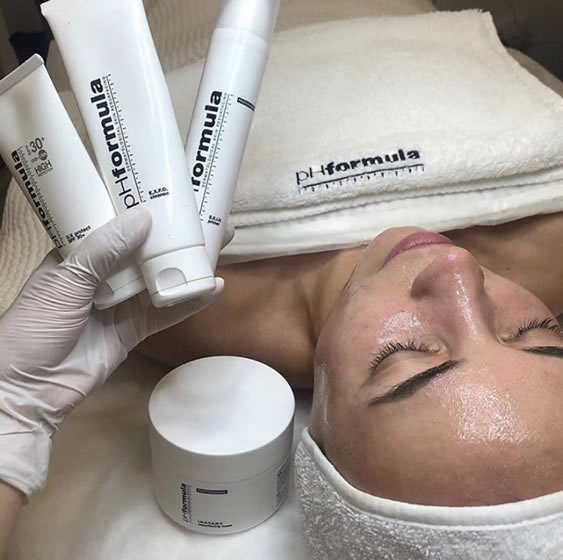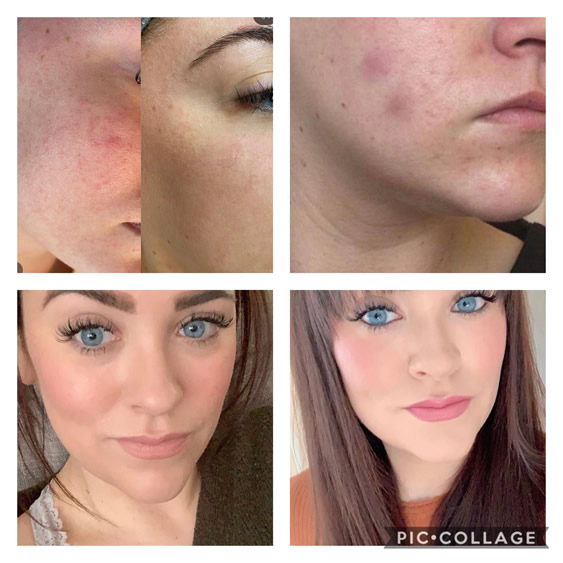 What products do we love? It has to be the active formulas in the skincare kits.
Not many skincare ranges have strong, active ingredients like pHFormula does. Which means it's a home treatment, trickle feeding your skin with the powerful ingredients to back up your in house skin treatments or as a stand-alone product that is science-based.
Indications
AGEING
Photo-ageing, pigment changes, lentigines, telangiectasia, dull, sallow appearance, keratosis, unhealthy condition of stratum corneum, wrinkles, superficial and medium expression lines
HYPERPIGMENTATION
melasma, chloasma, UV induced hyperpigmentation, superficial melanin disorders, post-inflammatory hyperpigmentation, solar lentigines, freckles.
ACNE
Acne grade I, II and III, which may also include excess sebum, enlarged pores, and superficial scarring. Complete restoration of unhealthy skin like chronic redness and erythematotelangiectatic type rosacea (ETR). Fitzpatrick I – VI
Key Ingredients
Salicylic Acid
Lactobionic Acid
Pyruvic Acid
Glycolic Acid
Retinol
Hydrolysed Soy Protein
PH-DVC™
As you will see in the ingredients list above, it contains PH-DVC…. What's this, you ask!? This is the hallmark of pHFormula and what enables their treatments to act the way they do!
Now, The Science!
The laboratories of pHformula have developed a new and innovative complex, PH-DVC™, which promotes the transportation of the different active ingredients into the skin. It also reverses any adverse effects that may occur from the use of high concentrations of acids, while maintaining maximum efficacy.
In the resurfacing treatments, acids are used, but the unique delivery system PD-DVC assists in the reduction of superficial skin trauma, irritation and inflammation by the inhibition of sensory irritation. This means that's we can use acid solutions at maximum concentrations within minimal inflammation or irritation.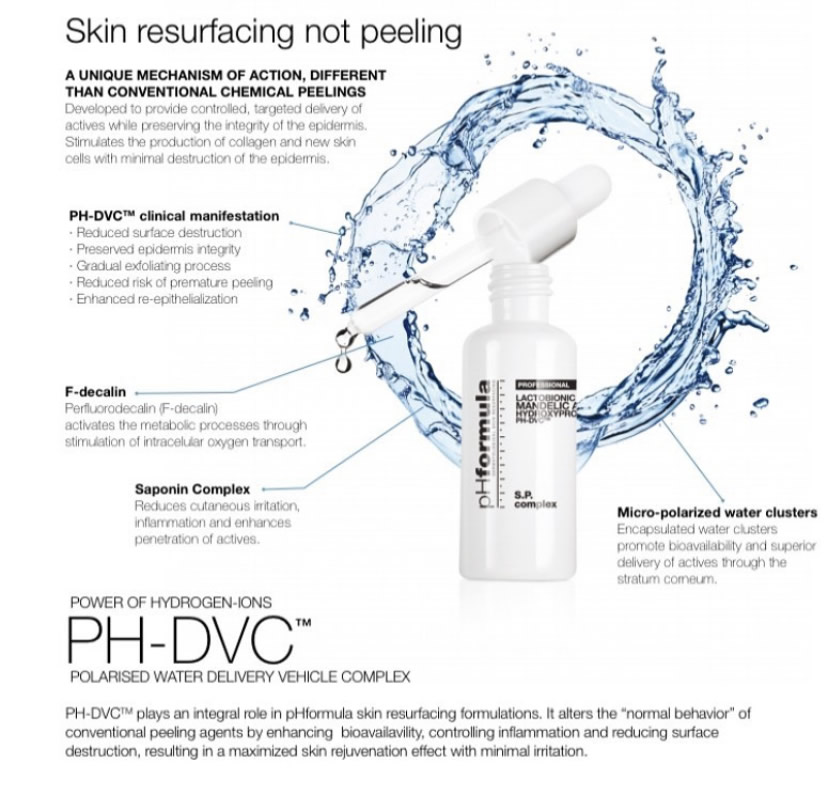 In simple terms, this unique ingredient allows quicker transportation of the active ingredients quickly to where it does its best work below the surface of the skin at a cellular level.
Another preferred treatment of ours is the in-house Vit C resurface, and their Vit C overnight mask. If you are a fan of the glow, this treatment and products are for you!
V.I.T.A C radiance release activator treatment.
The pHformula radiance release system pure L-ascorbic acid powder is dissolved into the pHformula radiance release activator just before application. Maximum vitamin C concentration levels are achieved in a highly absorbable medium. An advanced system, which addresses early signs of cutaneous damage.
What are the benefits of Vitamin C on the skin?
★ Vitamin C stimulates collagen and elasticity in the skin
★ Vitamin C reduces hyperpigmentation.
★ Vitamin C reduces the damage done by UV exposure
★ Vitamin C brightens skin tone
★ Antioxidant
★ Superior hydrating treatment
★ And the one we love! It delivers an unbelievable GLOW!!!