Anti-ageing & Skin Resurfacing Facials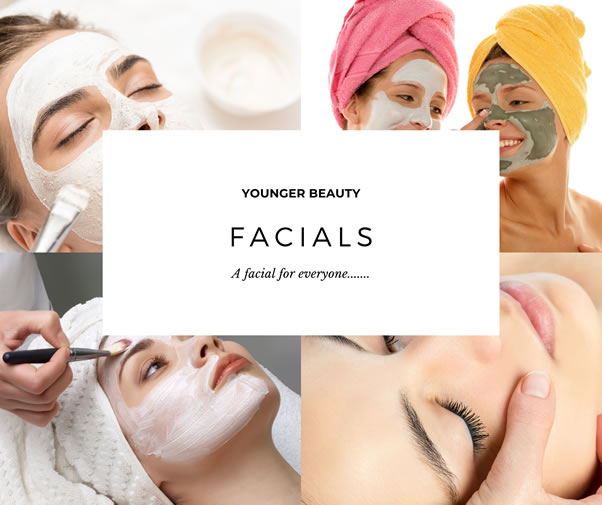 We offer a variety of facials; however, this does depend on your skin and what our skincare expert recommends.
We are the only clinic on the Wirral to use the latest technology in skin analysis.
The HD scanner performs a before and after 3D skin analysis by taking three in-depth images of the skin. 
This enables us to show a visible objective measure for the improvements in your skin health.
We offer a variety of facials; however, this does depend on your skin and what our skincare expert recommends.
We are the only clinic on the Wirral to use the latest technology in skin analysis.
The HD scanner performs a before and after 3D skin analysis by taking three in-depth images of the skin. 
This enables us to show a visible objective measure for the improvements in your skin health.
Our facials are created bespoke for your skin where a variety of different techniques are combined to create your perfect facial. We don't have a one fits all policy as everyone's skin is different! Our most popular facials are listed below: 
1. GeneO+ Facial (Oxygen Facial) a.k.a the 3-in-1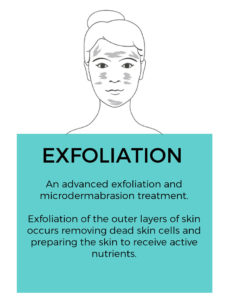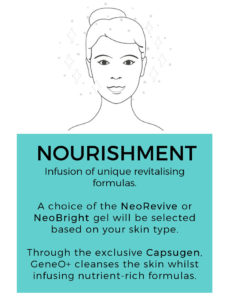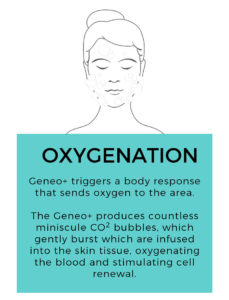 GeneO+ facial is especially beneficial to clients with the following skin concerns:
Dull, dry flaky skin
Fine lines & wrinkles or premature ageing
Uneven skin texture
Large pores
Light scarring
Pigmentation
Clients seeking an advanced exfoliation or microdermabrasion treatment
The treatment begins with a microdermabrasion treatment. The combination of the NeoRevive or NeoBright gel and the Capsugen gently buffs the skin creating oxygen bubbles which are infused into the skin tissue and oxygenates the blood stimulating cell renewal.
After the microdermabrasion phase of the treatment, the gel is removed, reapplied and massaged into the skin using the electrical handpiece to ensure that the product is infused deeper into the skin than a manual treatment could do.
The treatment uses consumables that are hygienically sealed and used for your treatment only.
Your skin will feel amazing immediately after leaving it looking brighter and smoother. When applying moisturiser and makeup afterwards, you will find that the products glide onto your skin smoothly and that you get the most benefit out of your home care skincare products.
How often should I have the treatment?
A course of treatments is highly recommended if you are looking to deal with a particular skin concern such as fine lines and wrinkles, pigmentation or dull, lacklustre skin. We recommend a monthly treatment programme to achieve optimum results.
A one-off treatment is also great before a special occasion to boost your skin.
2. GeneO+ super Facial (the face-lift) a.k.a the 4-in-1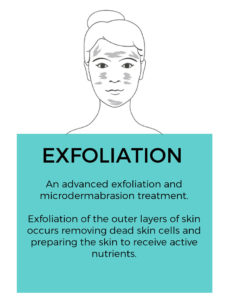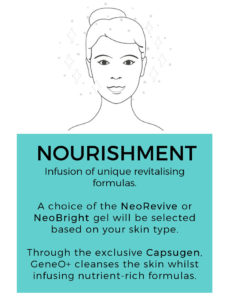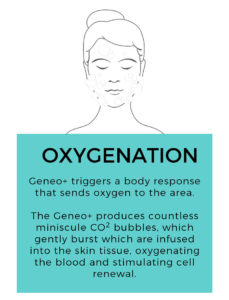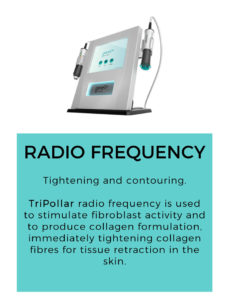 This facial is known as the Super Facial and includes skin tightening Radio Frequency. 
If you are concerned about premature ageing, fine lines and wrinkles, then this is the treatment for you. This fabulous skin rejuvenation treatment stimulates collagen and elastin in the skin while plumping out fine lines and wrinkles. It is a combination of the GeneO 3-in-1 with the additional radiofrequency.
A course of treatments will give you the best possible results, but you can expect immediately visible results after just one treatment.
What is Radio Frequency (RF)?
Radio Frequency has been used safely and effectively in medical settings for over 75 years. It safely heats the skin tissue deep from within while protecting the epidermis (visible layer of skin). GeneO+ uses TriPollar Technology which is clinically proven.
Collagen keeps the skin plump and younger. RF stimulates the cells in the skin responsible for collagen production. This provides long-lasting visible results and an immediate tightening of the skin.
The treatment is very comfortable and relaxing and different from older versions of Radio Frequency. In essence, the Pollogen's TriPollar handpiece detects when the deeper part of the skin is heated to the correct temperature without any risk of trauma to the skin surface. It is suitable for all skin types and colours.
A course is highly recommended for optimum results; however, immediate results are visible after just one treatment making this fantastic for clients looking for an advanced facial for a special occasion or wedding.
3. The Glow Up Facial
The Glow up facial is the GeneO+ 3 in 1 facial combined with a Vitamin C Resurface.
What is a Vitamin C Resurface?
V.I.T.A C Radiance Release Activator – The pHformula radiance release system pure L-ascorbic acid powder is dissolved into the pHformula radiance release activator just before application. Maximum vitamin C concentration levels are achieved in a highly absorbable medium. An advanced system, which addresses early signs of cutaneous damage.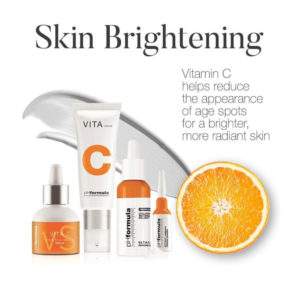 What are the benefits of Vitamin C on the skin?
Stimulates collagen and elasticity in the skin
Reduces hyperpigmentation
Reduces the damage done by UV exposure
Brightens skin tone
Antioxidant
Superior hydrating treatment
And the one we love the most…. It delivers an unbelievable GLOW!!!
4. phFormula Skin Resurfacing Treatments
Prices start from £55 and additional add-on treatments such as Micro-Needling, Dermaplaning, Masks and LED Light Therapy are charged extra if required.
Skin resurfacing
Different forms of skin resurfacing such as chemical peels and many other similar ideas have been around in some form since the '80s. pHformula brings advancement in skin resurfacing representing the next level of skincare and anti-ageing based on more than three decades of combined scientific, medical and beauty knowledge and experience.
So what is resurfacing and what does it do to your skin?
It is a non-invasive process that rejuvenates your skin layer by layer. Controlled skin resurfacing goes beyond the outer layer of the skin to actively provoke an accelerated form of cell regeneration in all layers. New skin cells form from the inside out, resulting in a more radiant, younger-looking skin surface – reducing the appearance of trauma or irritation without the risk and cost associated with cosmetic surgery. 
What to expect from pHformula's skin resurfacing treatments
After taking a thorough skin history, your skincare expert will recommend a skin resurface targeting your needs and skin type – whether that be anti-ageing, hyperpigmentation, chronic redness, acne, or even a radiance boost. Different treatments can be combined in a specially-designed program with controlled strength and depth depending on what your skin needs.
Ageing
A.G.E. 1, 2 and 3 solutions.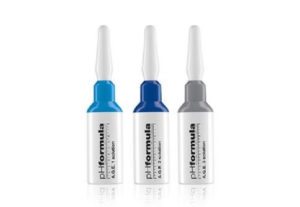 Active and effective skin resurfacing solutions for the treatment of typical signs of ageing such as photo-ageing, pigment changes, dull, shallow appearance, superficial and medium expression lines or wrinkles on the face.

Active ingredients – including retinol, to regulate cellular differentiation and provide a powerful anti-oxidant; mandelic acid, shown to improve the appearance of fine lines and wrinkles; lactobionic acid to assist in wound healing, and pyruvic acid to stimulate collagen.
Hyperpigmentation
M.E.L.A. 1,2 and 3 Powerclays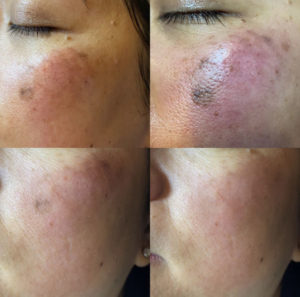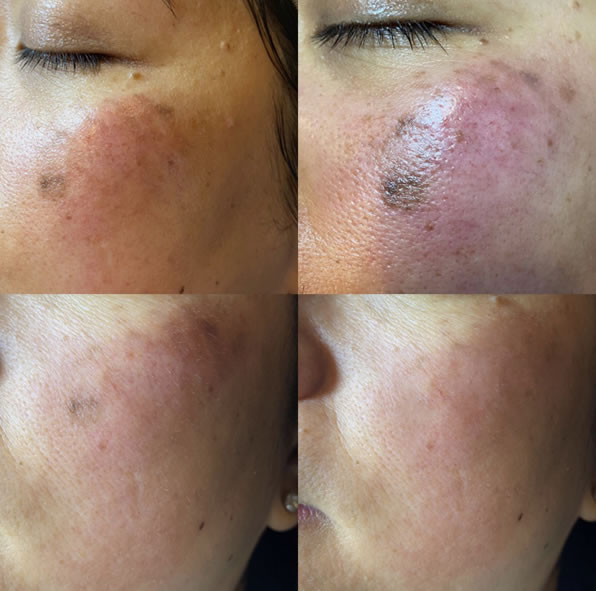 This unique pHformula powerclay used in the resurfacing treatments is a powerful hyperpigmentation treatment designed to reduce the accumulation of epidermally located melanin. It tackles pigmentation and promotes skin brightening. The combination of phytic acid for antioxidant power, lactobionic acid for repairing the overall structural integrity of the skin, along with several other dynamic ingredients, ensure the superior improvement of hyperpigmentation spots in all skin types.
Acne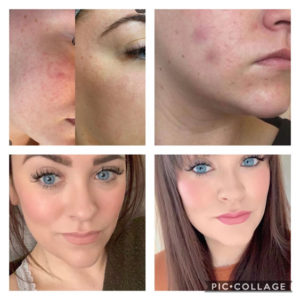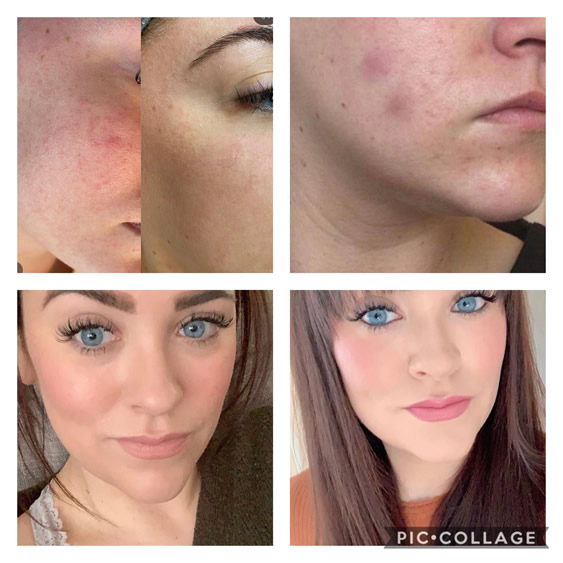 These active solutions effectively penetrate the pores to assist in dissolving impactions and help control microbial proliferation in acne-prone skin. Anti-inflammatory benefits and a strong keratolytic action to help normalize problematic skin.
Chronic Redness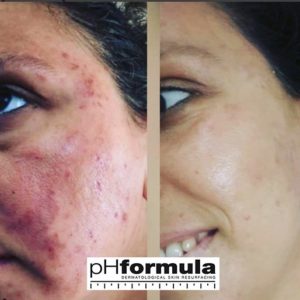 An active complex for complete restoration, chronic redness and rosacea prone skin. Specifically formulated with anti-microbial activity to help reduce redness and prevent relapses.
5. Dermaplaning
This is treatment using manual exfoliation similar in theory to microdermabrasion but without the use of suction or abrasive crystals. An esthetician grade, sterile blade is stroked along the skin at an angle to gently 'shave off' dead skin cells from the epidermis. Dermaplaning also temporarily removes the fine vellus hair of the face, leaving a very smooth surface.
Why choose dermaplaning?
Fast, affordable and no downtime.
Removes dead skin cells and vellus hair revealing newer, younger skin.
Stimulates the production of fresh; younger skin cells.
Treatments are gentle and take very little time so is ideal for a busy lifestyle.
6. Deep Exfoliation Facial
A deep cleansing facial with microdermabrasion, heated flannels and specific blackhead extractions. By using high end products and the most advanced techniques, this treatment offers a truly deep exfoliation experience.
Everyone needs their blackheads extracting...
7. Indulgent Facials
People have facials for different reasons: while some people want help with an anti-ageing routine, others want those horrible blackheads removed, and others want to relax and be pampered. A facial is a multi-step skin treatment that is one of the best ways to take care of your skin. A facial cleanses, exfoliates, and nourishes the skin, promoting a clear, well-hydrated complexion helping your skin look and feel younger. 
Part of a facial is also receiving advice on the best way to look after your skin. A facial works best when it is part of an on-going program of skin care.
Luxury Facial (60 mins)
A slightly longer treatment in which we will cleanse, tone and exfoliate the skin. A facial massage followed by a suitable mask, a scalp massage, and finished with a deep moisturising.
Deluxe Facial (75 Mins)
A deluxe treatment which includes an additional mask to target multiple skin concerns, a relaxing hand and arm massage as well as a deep scalp massage.
Super Deluxe Facial (90 Mins)
The ultimate in relaxation! They don't come better than this. To begin with hot mitts on the feet, a luxurious back, neck and shoulder massage with aromatherapy oils followed by a full prescriptive facial treatment.