Live On The Wirral and Considering Dermaplaning?
Here at Younger Beauty Salon we specialise in providing expert skin services. One of those is Dermaplaning which is carried out by Grace Proudman from The White Feather Clinic on the Wirral.
We asked Grace a few questions that are our frequently asked by our clients.
What is Dermaplaning and how does it improve your appearance?
This is a super effective exfoliating treatment in which a surgical scalpel is used to gently scrape off any dead skin cells and fine hair from the surface of your skin. A build up of dead skin and fine hairs can make your complexion appear dull, flaky, and can even cause breakouts due to clogged pores and hair follicles.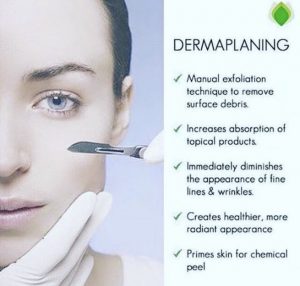 What skin type is Dermaplaning suitable for?
Dermaplaning is recommended for all skin types. Skin with sun damage, fine lines, very dry skin and dull skin are great candidates. The procedure requires the use of a sharp scalpel, therefore clients with enflamed acne should pass on it until their complexion clears up.
Will my hair grow back thicker and darker? Some clients suggest that it feels slightly different because the hair was cut straight across, but it's actually the same texture as before and grows at the same speed. It also just might seem thicker because the hair was bluntly cut by the razor versus having a natural point to it.
Is there any downtime?
Some light redness can be expected but not always, if so it clears very quickly as is related to the exfoliating mask we use rather than the scalpel procedure.
Are there any products you recommend after treatment?
You'll need to be very diligent with SPF afterward. Generally we recommend daily SPF but especially post-exfoliation your skin is especially susceptible to the sun.