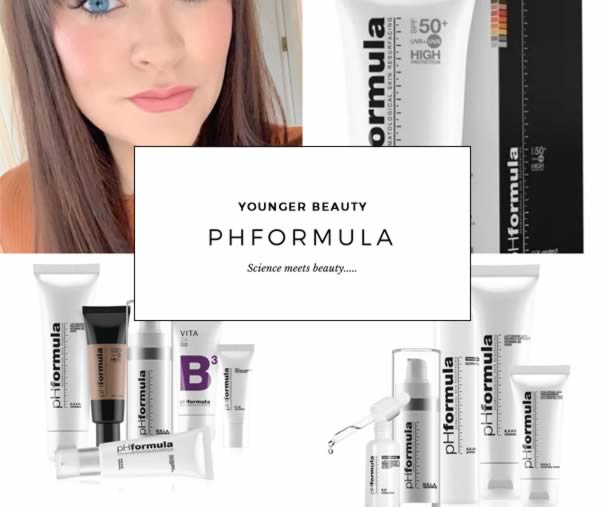 At Younger Beauty, we use two very different brands. We love Tropic and pHformula.
Yes, these two products are completely different! That's because as a population we all want different things. In our opinion, these are two of the best brands for different reasons.
Let's talk pHformula!
A completely different skincare range. pHformula is leading the beauty industry where science meets beauty. 
Based in Barcelona, Spain, Petru is the founder and CEO of pHformula – the first professional skin resurfacing system applied by skin specialists worldwide.
Originally from South Africa, Petru van Zyl has worked extensively in Europe, Australia, the United Kingdom, Scandinavia, the UAE, Russia, South America, South Korea, and the USA. During this time, she actively researched skin biology as well as the latest cosmetic chemistry information available, leaving her with a passionate interest in developing a dermatological skin resurfacing system. The pHformula skin resurfacing system has a unique mechanism of action. It is different from conventional chemical peelings and was formulated to provide a controlled and targeted delivery of active ingredients while preserving the integrity of your skin's epidermis. Skin resurfacing stimulates the production of collagen and new skin cells, with minimal destruction of the epidermis.
She collaborates closely with several internationally renowned master opinion leaders; most of whom are well-known scientists, dermatologists, plastic and aesthetic surgeons.
pHformula's products are not tested on animals, nor do the ingredient suppliers test on animals. PHformula's focus remains on creating optimal skin health and therefore, also doesn't use parabens and are not used in our products.
pHformula, is a dermatological skin resurfacing system. A system positioned between cosmeceuticals and the physicians practice, and which is in the process of being successfully introduced into more than 35 countries worldwide.
All the treatments and formulae used in pHformula are supported by more than 30 years of combined scientific and medical experience. All the active ingredients are pharmaceutical grade and offer an opportunity for physicians to recommend and apply one of the most advanced and effective skin resurfacing treatment systems available in today's aesthetic market. Due to the medical element and strength of active ingredients, you can not buy this product without having a skin consultation with at least a Level 4 skin qualified technician.
Why do we love this brand? When it comes to results, it certainly delivers. 
They target for main areas of concern: Ageing, pigmentation, acne and Chronic Redness (Rosacea). For many, these skin conditions can significantly affect a persons confidence and wellbeing. After lots of research and trials with different brands, we settled with this, and we love it.
Below is one of our results from the pigmentation resurfacing. This was after three skin treatments and home care…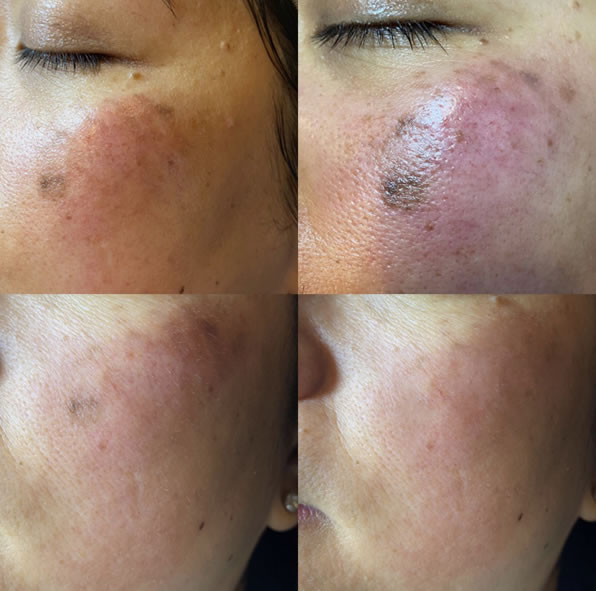 The results speak for themselves. We love the acne resurfacing and home care also loved by Frankie Bridge.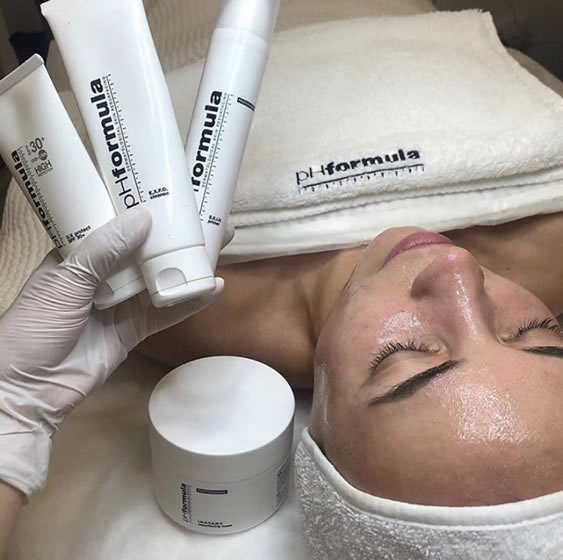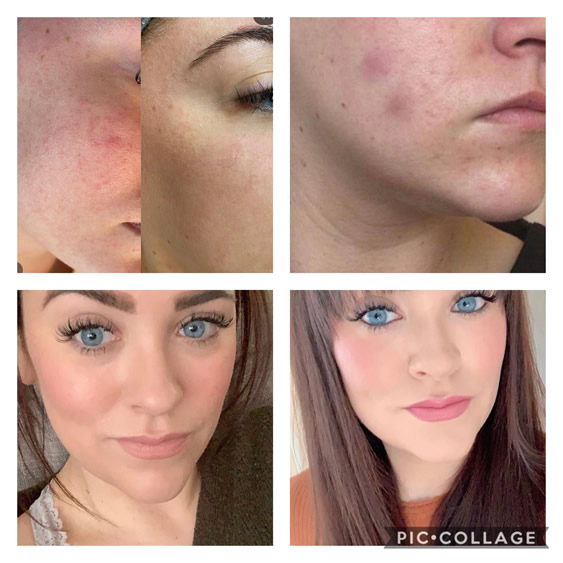 What products do we love? It has to be the active formulas in the skincare kits.
Not many skincare ranges have strong, active ingredients like pHFormula does. Which means it's a home treatment, trickle feeding your skin with the powerful ingredients to back up your in house skin treatments or as a stand-alone product that is science-based.
Indications
AGEING
Photo-ageing, pigment changes, lentigines, telangiectasia, dull, sallow appearance, keratosis, unhealthy condition of stratum corneum, wrinkles, superficial and medium expression lines
HYPERPIGMENTATION
melasma, chloasma, UV induced hyperpigmentation, superficial melanin disorders, post-inflammatory hyperpigmentation, solar lentigines, freckles.
ACNE
Acne grade I, II and III, which may also include excess sebum, enlarged pores, and superficial scarring. Complete restoration of unhealthy skin like chronic redness and erythematotelangiectatic type rosacea (ETR). Fitzpatrick I – VI
Key Ingredients
Salicylic Acid
Lactobionic Acid
Pyruvic Acid
Glycolic Acid
Retinol
Hydrolysed Soy Protein
PH-DVC™
As you will see in the ingredients list above, it contains PH-DVC…. What's this, you ask!? This is the hallmark of pHFormula and what enables their treatments to act the way they do! 
Now, The Science!
The laboratories of pHformula have developed a new and innovative complex, PH-DVC™, which promotes the transportation of the different active ingredients into the skin. It also reverses any adverse effects that may occur from the use of high concentrations of acids, while maintaining maximum efficacy.
In the resurfacing treatments, acids are used, but the unique delivery system PD-DVC assists in the reduction of superficial skin trauma, irritation and inflammation by the inhibition of sensory irritation. This means that's we can use acid solutions at maximum concentrations within minimal inflammation or irritation.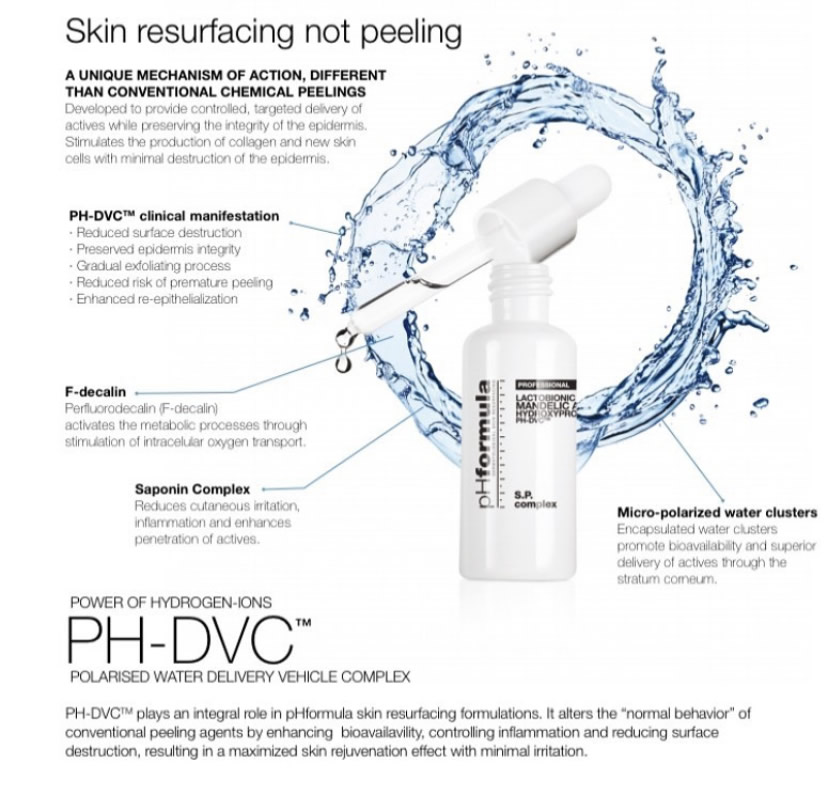 In simple terms, this unique ingredient allows quicker transportation of the active ingredients quickly to where it does its best work below the surface of the skin at a cellular level.
Another preferred treatment of ours is the in-house Vit C resurface, and their Vit C overnight mask. If you are a fan of the glow, this treatment and products are for you!
V.I.T.A C radiance release activator treatment.
The pHformula radiance release system pure L-ascorbic acid powder is dissolved into the pHformula radiance release activator just before application. Maximum vitamin C concentration levels are achieved in a highly absorbable medium. An advanced system, which addresses early signs of cutaneous damage.
What are the benefits of Vitamin C on the skin?
★ Vitamin C stimulates collagen and elasticity in the skin
★ Vitamin C reduces hyperpigmentation.
★ Vitamin C reduces the damage done by UV exposure
★ Vitamin C brightens skin tone
★ Antioxidant
★ Superior hydrating treatment
★ And the one we love! It delivers an unbelievable GLOW!!!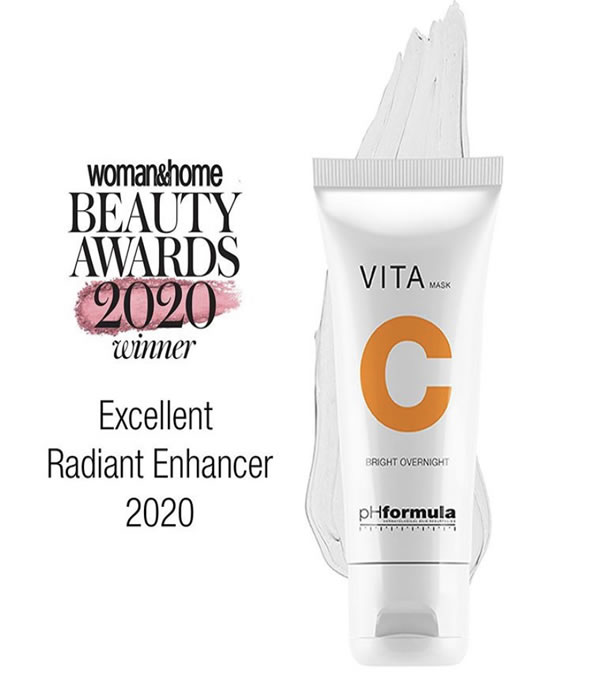 Now let's talk about Tropic…
Tropic Skincare is a multi-award-winning range of skincare and beauty, freshly made in the UK using the most innovative, active ingredients that nature has to offer.
100% natural! Yes, 💯 natural! A product packed full of innovative, tropical ingredients.
A skincare range that is tailor-made so, whatever your complexion, nourishing plant extracts work in harmony to feed, protect and rejuvenate your skin.
Susie, the founder of Tropic, was taught by her Grandmother that skin needs feeding with natural, nourishing and healthy ingredients. … Not only do the Tropic skincare products smell amazing, but they are wonderfully kind to your skin too.
Did you know the skin is the largest organ in the body and is one of the ways to administer drugs such as nicotine? So why not think about what you put on your skin? Products are absorbed through the skin in three ways depending on the size of the particles. # They are either absorbed into your skin cells before passing through; # Pass around and then through; # Or are absorbed into glands before being excreted out of the body
Either way, they are a direct route into your body, so maybe we should give some thought to it? One of the most significant toxins is Sugar, and we consume a worrying amount of it.
Plants and fruits that grow in tropical climates soak up an abundance of sunshine, which helps them to flourish.
Tropic Skincare believes that these plants are the most nutritious and beneficial for the skin. That's why their ingredients are sustainably sourced from the Amazon rainforest, Polynesia, Australia and many more exotic regions brimming with powerful botanical actives.
Also, Tropic lookout for animal welfare and the environment, they never test on animals, nor do they use derivatives that cause them distress. That's why they stand with Cruelty-Free International, The Vegan Society and PETA as a 100% cruelty-free brand, now and always.
All their products are free from parabens, SLS/ALS, unsustainable palm oils, formaldehyde, alcohol, MI, petrochemicals, mineral oils, gluten, lanolin, triclosan, beeswax/honey, harsh preservatives, toxic chemicals and microbeads.
All their products are freshly made with naturally derived, or nature identical, ingredients and are specifically designed to be kinder to skin.
Tropic Skincare has been re-awarded the independent Ethical Accreditation for the 2nd year running!
Tropic Skincare believes in being a force for good beyond beauty in everything they do, from sustainable sourcing of their ingredients to producing products that are genuinely kind to the skin.
The cruelty-free products are handmade by staff at a beauty kitchen inSurrey and are formulated using organic vegan ingredients, such as bio-retinol and plant ceramides. There have been incredible advancements in ingredient technology, and we now have access to plant-derived Bio-Retinols which are not part of the vitamin A family, but function in the skin in the same way as Retinol to deliver the same anti-ageing benefits but 100% natural.
A CarbonNeutralⓇ company, Tropic helps fund sustainable schemes to counteract the greenhouse gases we emit through essential business activities. They essentially give more than they take away. So to recap. Why would you choose Tropic? You are looking for a 100% natural brand, are ethical, smell amazing, have clinically proven trials for their efficacy, are carbon neutral and a vegan and paragon free. And they look amazing on your bathroom shelf!
Here are a few of our favourite items…
The masks
We love the hydrating mask! Apply before bed and no need to take it off. Smells beautiful and awake feeling that dewy skin.

The Tamunu Balm
This multipurpose, nourishing green balm is a bestselling skincare hero. Enhanced with antioxidant-rich ingredients, it helps to repair scarred and damaged skin, improve the appearance of stretch marks, and soothe dry skin conditions such as eczema and psoriasis, as well as stings and bug bites.
★ repairing
★ soothing
★ hydrating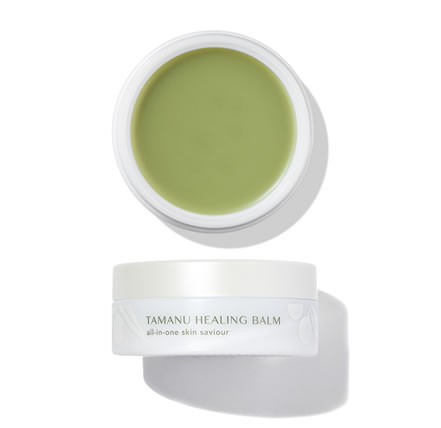 Sarah's son had a nasty cut to his head resulting in a hypertrophic scar. These occur when there is a lot of tension around a healing wound. These scars are thick and raised, and often red in colour. They often remain like this for several years. Hypertrophic scars are the result of an imbalance in collagen at the site of the wound.
As you can see in the photos above from injury to healing without redness this was in the period of 6 months as opposed to the two-year time frame. Sarah used the tamunu balm most nights for a couple of months then about every other night for a couple of months. Hence they call it the magic cream! It's also great for teething rashes and chapped cheeks on children.
Makeup Palletes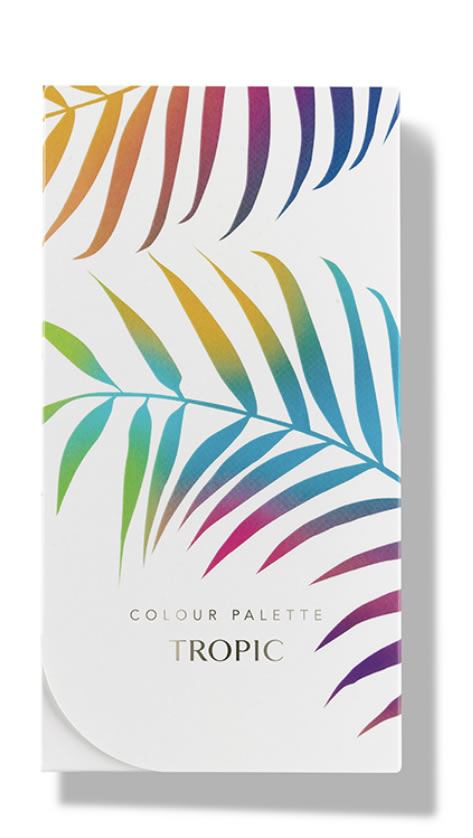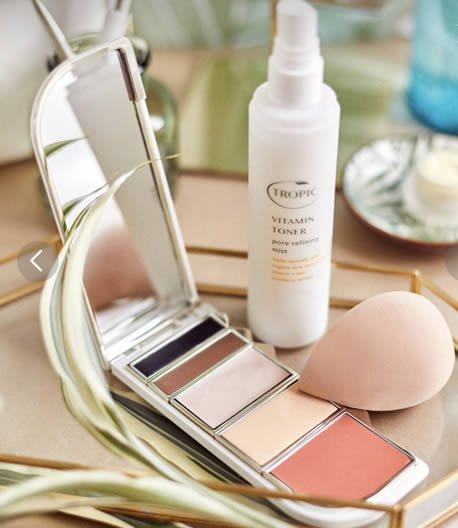 We love this makeup palette! Yes, they do makeup!
Not only can you choose what you want to go into it. You can refill when empty and carry it around in your bag with quick access to all your favourites! It even has a mirror!
Beauty Booster Cream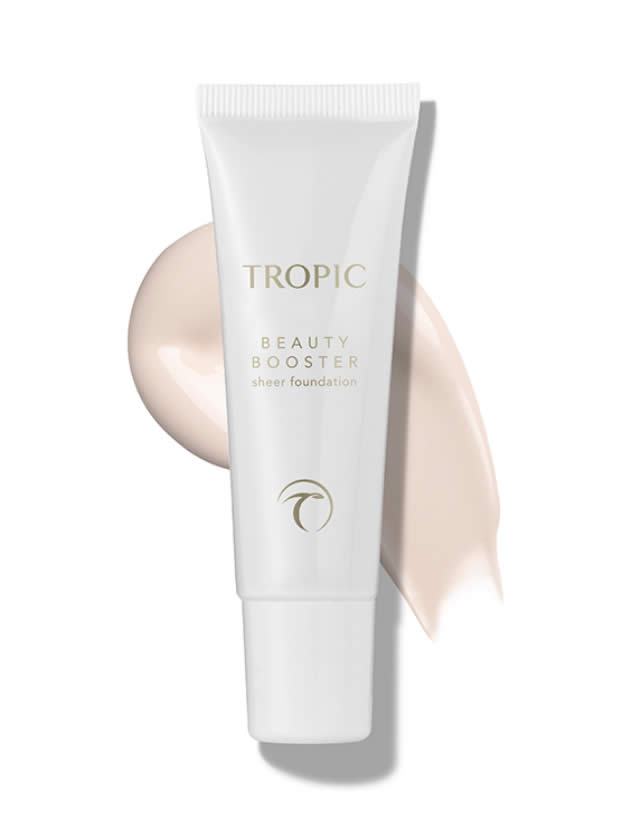 We love their Beauty Booster cream… We have used this for over the last year. We have used many different brands but we do love this one!
We could keep going on but feel free to get in touch for further information or visit our Tropic shop for a look at all the products. They have a skincare range, hair, makeup, body pretty much everything covered.
They also do lovely pamper packs that make beautiful gifts!