Anti-wrinkle injections otherwise known as Botox have been a popular wrinkle eraser for over 10 years now. At Younger Beauty we are often asked about the procedure and are tempted to try it. Our clients often comment that they are unsure as to whether it's suitable for them or are scared of getting a masked face. We are all familiar with this wrinkle eraser whether it's watching real housewives, or the celebrity trend for staying youthful however it's not just for the rich and famous. When this procedure is carried out by highly trained individuals such as our Dr Syvret from Underlining Beauty , the results are amazing and is a very appropriate treatment for everyone not just the famous!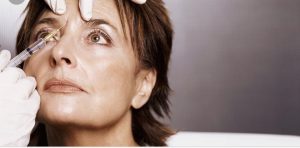 How do the Injections work?
Anti wrinkle injections work by relaxing the muscles in the face, but a small study published in JAMA showed that the injections may also improve the elasticity and pliability of skin after treatment.
Will my expression look frozen?
Many years ago it wasn't uncommon to spot celebrities with immobile foreheads because of the injectable's muscle-relaxing effects. This is largely due to overuse and down to the experience of the doctor doing the procedure. At Younger Beauty Dr Syvret is a trusted member of the community as a local GP and has vast experience with anti wrinkle injections to strategically place the Botox to achieve natural-looking results. "The extent of the relaxation depends on the amount of Botox injected and the placement of the injection. I believe a more natural look with some natural movement combined with strategically placed Botox creates a refreshed more natural refreshed youthful look" says Dr Syvret from Underlining Beauty.
How much does it hurt?
Botox is injected by a needle and is often described as a similar sensation to tweezing at the site of the injection.
What age can I start using Anti-wrinkle injections?
You can begin using Botox at any age although Dr Syvret suggests that after 30 is best although in some cases deep forehead lines can be treated earlier.
Are anti wrinkle injections fillers?
No, the injections relax the muscle contractions that cause wrinkles. Fillers plump and fill sagging wrinkles for example the ones that run from your nose to the corner of your mouth.
How expensive is it?
Cost depend on the amount of injection used which usually corresponds to the amount of areas treated and whether male or female.
1 Area £120 Women, £180 Men
2 Areas £160 Women, £240 Men
3 Areas £200 Women, £300 Men
How long will the results last?
Results last between 3-6 months although this also depends on the area treated and how long each person's body metabolises the treatment.
If you are considering Botox and wish to consult with Dr Syvret at Younger Beauty call 0151 3722850 today.